The human mind, and specifically, our associative cortex, is truly astounding in its ability to make some kind of sense and meaning out of just about anything. This does not, of course, mean that this sense and meaning have any connection to reality, even internally. But evolution seems to have constructed our minds around the ability to make connections and associations. When we draw forms and information from dimensionless fields, such as a whiteout, a ganzfeld, or white noise, we call the talent Apophenia. When we draw forms and information from mere or simple suggestions of form, as with tea leaves, entrails and clouds, we call the talent Pareidolia. The Yi is located just a short way up this scale from pareidolia: the images and stimuli it uses have considerably more original order than clouds, at least after the decades of study required for the images to make any sense. Skeptics may well level charges of ambiguity and pareidolia at the divinatory arts, but this need not be a call to some kind of defense. I suspect that these charges should be embraced as a partial description of how the divinatory process works. It makes use of the human mind in a manner consistent with some of its basic cognitive processes. Apophenia and Pareidolia can make use of an active interface between the suggestion of form and meaning and elements of the sub-conscious just waiting for a little illumination.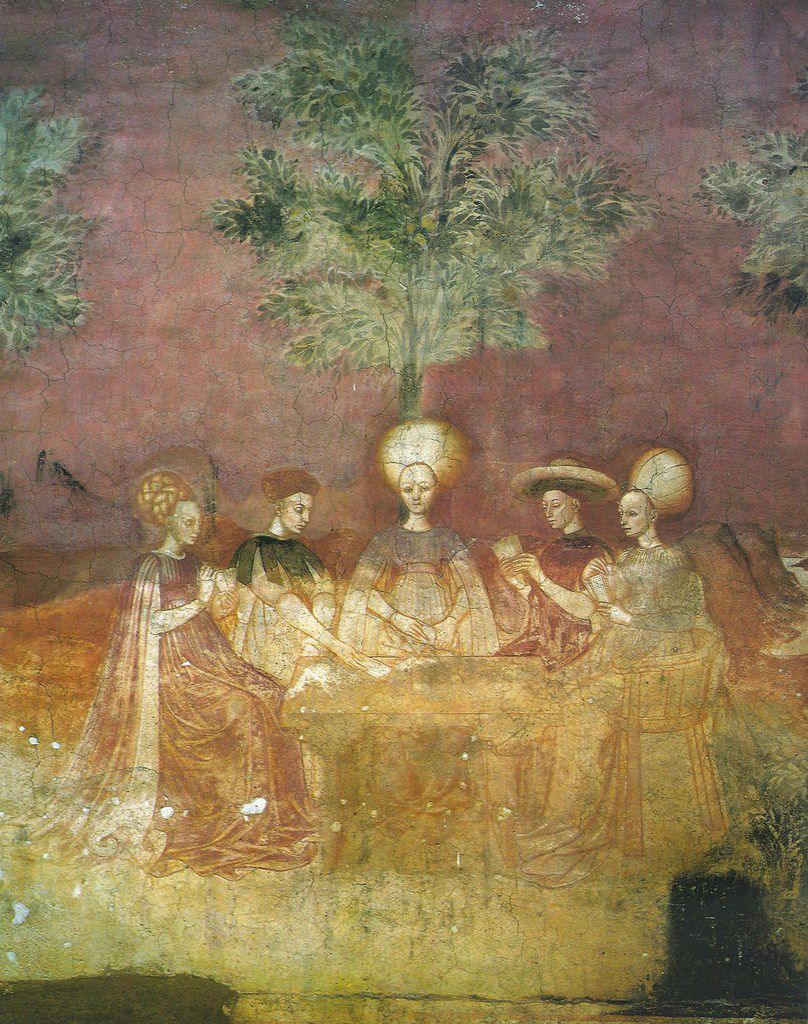 Dans le Dialogue entre mon âme et le Ciel, je faisais référence à ce que je conçois être les quatre dimensions:
ce qui est,
ce qui n'est pas,
ce qui sera et
ce devenir qui se modifie à chaque instant.
Voilà bien ce que l'on appelle les correspondances universelles, le principe de synchronicité défini par C.J. Jung notamment dans son interprétation de la philosophie du Yi Jing 易经, le Livre des Mutations, à savoir comment une situation en amène à une autre, comment les événements sont inextricablement imbriqués dans l'enchevêtrement de l'histoire universelle ou individuelle. De un à deux, de deux à trois, ainsi de suite....
synchronicity takes the coincidence of events in space and time as meaning something more than mere chance, namely, a peculiar interdependence of objective events among themselves as well as with the subjective (psychic) states of the observer or observers. (Foreword to The I Ching, p.xxiv, Wilhelm/Baynes, Princeton University Pres, 1990)
Only when darkness too is involved can there be creativity. Only where no form exists, all forms are possible, all is open.
In a real work of art, it is the hinted at, but not spoken out, which gives the illusion, the beauty. It takes form in the beholders eye. Every time a different form, every time a new creation.
The fruits of art have to be 'not yet', the abundance of summer, before the harvest. (I Ching, Oracle of the Sun, hexagram 64)
Stay on your own course, steadying your boat on the big river of your life. Never deviate from your own conscience, feelings, ethics.
A young man decided to leave the world of society. He started to fish for eel as a living. Every day he fished for bait and prepared his lines, 1100 hooks. The first day he caught many eels, but after that - never again anything. He kept going on and on for 2 years, every day putting out his lines.
Now he is an artist, famous for his etchings of fishing boats and the harbor. More than 20 years later he learned the cause of catching no eel: he did not pickle the lines, so the eel smelled death and stayed away.
His dedication did not change, and it brought him what belongs to him, even if it did not make any sense rationally.(hexagram 32)

S'agissant de l'âme vivante du Livre des mutations, j'admire l'opinion peu orthodoxe et certainement non partagée parmi les intellectuels et scientifiques, du savant septuagénaire C.J. Jung qui en 1949 s'aventurait à dire : Pourquoi ne pas s'essayer à un dialogue avec cet ancien classique, objet prétendu animé ? . C'est la part de l'inconscient qui fascine dans le processus du Yi Jing, comment l'inconscient collectif ou individuel, de l'observant ou de l'observé, entre en jeu pour témoigner de la puissance d'une force spirituelle abstruse dont la science métempirique agit en tant que dialogue entre le mondain et le sacré. Intervient ici notre propre attitude face à une situation donnée qui crée les prémices des développements futurs, la graine de l'avenir, delà la nécessité maintes fois répétée de conserver sérénité et magnanimité face à la vie. Courage et lâcher prise de nos peurs intrinsèques en sont le préalable.