David Huguet (Synd. Mixte de l'Espace de Restitution de la Grotte Chauvet): "Les supports numériques sont intuitifs et peuvent évoluer rapidement"
Inaugurée le 25 avril, la réplique de la grotte Chauvet (Article du Clic France: Avec sa réplique et son espace multimédia, la Grotte Chauvet s'ouvre au monde) est un projet porté depuis 8 ans...
http://www.club-innovation-culture.fr/itv-d-huguet-synd-mixte-espace-restitution-grotte-chauvet-mai-2015/
Faut-il limiter l'art pariétal à la période entre les premières heures de l'âge de bronze jusqu' à 4 000 ans avant notre ère ? L'art pariétal est-il insaisissable comme s'il cherchait à éluder notre questionnement ? Et qu'en est-il de l'art rupestre des aborigènes qui perdure sur les roches au cours des siècles en Australie ou ailleurs?
Le temps est son créateur.
Issue 51 - Africa Geographic Magazine
An artist returns to the ancient ways of the San.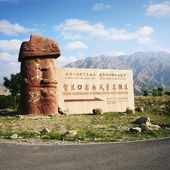 The Rock Art of the Helan Mountains, Inner Mongolia, China
The main concentration of carvings in the Helan Shan - the Helan Mountains - is found at Helankou, the dramatic gorge cutting north-west through the mountain chain, constituting the Helankou Rock ...
http://www.bradshawfoundation.com/china/rock_art_helan_mountains2.php